You may be well acquainted with the most popular type of summer squash – zucchini – however there are many others that are delicious, easy to prepare and some with adorable names to boot!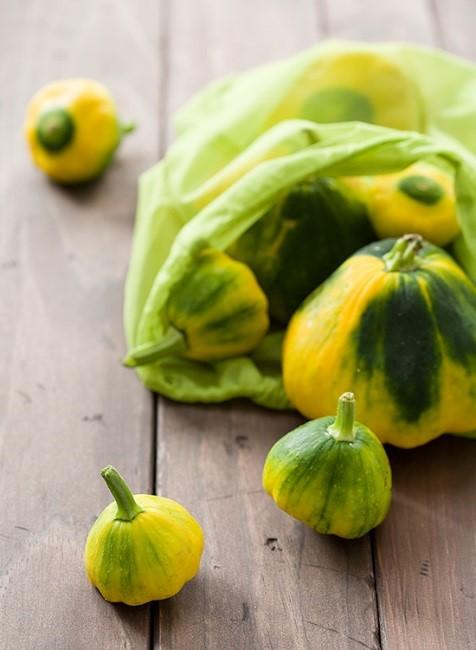 Pattypan Squash
Have you ever tried Pattypan squash, a smaller unusual looking summer squash? Pattypan squash is tougher than most varieties of summer squash, which is good; it'll hold up to longer cooking and higher temperatures than, say, zucchini. It's great in stews and chilis and in long bake recipes. Some types are sunburst, sunshine, white, zephyr, scallop and flying saucer! Try this easy recipe tonight!
Baked Pattypan Squash Parmesan with Garlic Breadcrumbs
Simply baked with a slathering of marinara sauce, a sprinkling of cheese, and topped with crispy toasted garlic breadcrumbs (perhaps the best part of the entire thing). It's like a deconstructed eggplant parmesan… but with squash.
3 to 4 large pattypan squash (about 1-3/4 pounds total), cut into          1/2-inch thick slices
1 medium onion, halved and sliced
2 tablespoons olive oil
salt and pepper, to taste
1 cup marinara sauce
1/2 cup grated parmesan cheese
1 cup grated mozzarella or fontina cheese
For Breadcrumbs:

1 cup panko breadcrumbs (a higher fibre cereal or whole grain crackers can be  crushed to use as a bread crumb for a healthier alternative)
3 garlic cloves, chopped
2 tablespoons olive oil
1/4 teaspoon dried oregano
1/4 teaspoon dried parsley
salt and pepper, to taste
Preheat oven to 400ºF. Line a large baking sheet with aluminum foil; brush with oil.
Toss squash and onion slices with 2 tablespoons olive oil, salt, and pepper. Arrange in a single layer on prepared baking sheet. Spoon marinara sauce over squash slices.
Bake for 15 to 18 minutes (depending on the thickness of the squash); sprinkle with cheeses and bake for 5 to 7 minutes more, or until squash is tender and cheese is melted and beginning to brown.
Meanwhile, to prepare garlic breadcrumbs, heat 2 tablespoons olive oil and garlic in a medium skillet over medium heat, until oil is hot and garlic is fragrant, 2 to 3 minutes. Add bread crumbs, herbs, and salt and pepper and stir until breadcrumbs are golden brown, about 8 to 10 minutes more. Sprinkle breadcrumbs over squash slices and serve.
 Enjoy!