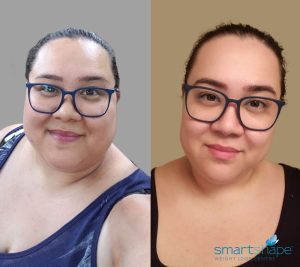 BEFORE                                                                           AFTER
Patient: Rosemary
Province: British Columbia (Out-of-province patient)
Surgical Weight Loss Procedure: Mini Gastric Bypass
1 year post-surgery
I'm Rosemary and in 2018 I decided to have weight loss surgery for me and for my health.
I loved cooking, creating dishes, and really letting my creativity flow. Because of this, I started eating too much, and it got to a point where nothing could stop me from eating when I wanted to. Medications and therapy weren't helping me lose enough weight and hadn't in the past either.
In 2018, I was diagnosed with PCOS with insulin resistance as well as diabetes, which changed my outlook on life.
After that, I finally decided that I was done waiting to have the surgery through OHIP. I was on the wait list for years and I didn't want to suffer from diabetes any longer, so I started to look into bariatric surgeries at private clinics.
I ended up choosing SmartShape Weight Loss Centre to perform my surgery because of their great reviews and the fact that it was Canadian. When I spoke with my surgeon over the phone, I decided it was the right decision for me. He was patient, kind and answered all of my questions, and that made me feel comfortable enough to book my surgery.
I decided to have the Mini Gastric Bypass procedure, which was suggested to me by my surgeon. He looked over my medical file and I let him make the decision of which surgery I should get. He's the one who would be doing the procedure, and I trusted him completely with this important decision.
Honestly, I did not enjoy the two weeks of the pre-op diet given to me by my surgeon. I didn't wean myself off like I should have, and I got kicked in the butt hard by caffeine and sugar withdrawal.
I was creative with my meals, though. I made a lot of cabbage soup with a lot of spicy flavors and vinegar, since I could not eat salt or sugar. Spice, vinegar, and citrus were my flavors of choice.
The surgery itself was a breeze in comparison. I had little pain when I was in the hospital, and I was very comfortable the whole time.
Post-op was great as I didn't have much pain at all. I had some gas discomfort, but I've had period cramps worse than the discomfort I felt post-op. It lasted a few weeks on and off, but I didn't need the painkillers I was prescribed. I was back to my regular life within a week.
Now, almost a year later, I no longer have diabetes. It only took 8 weeks after my surgery before everything in my life settled. Now my blood sugar is at a normal level and I'm no longer lactose intolerant.
I had discoloration in my skin's creases called Acanthosis Nigricans. It's a sign of insulin resistance, but when my diabetes went away, my discoloration went away. It's been amazing.
Of course weight loss has been a positive post-surgery change as well. Shopping for new clothes has been amazing too. In the 10 months since my surgery, I've dropped four t-shirt sizes and three pant sizes. I went from a 2/3XL in a plus-sized store to a large in "regular" sized stores, and my shoe size even decreased.
It hasn't been easy to adapt to the lifestyle changes, but I've managed. I'm glad that my portions have decreased because it has forced me to train myself to eat less, but it still has been tough. I experienced hair loss on the third month and this lasted until the sixth month after surgery. Now it's all growing back, and my hairline has filled out again.
Even though I haven't lost any pounds in the last eight months, I dropped those last two shirt sizes, so it's evened out. I can't explain it, but I constantly look slimmer and that's great.
I've been lucky that it hasn't been as hard as some people have it and I'm very grateful for that. Having the surgery was 100% worth it for me, and I have no regrets. This surgery has saved my life.
Click here to view more of SmartShape's surgical weight loss transformational stories and Before and After photos.