Provincial governments across Canada are in a constant struggle to limit their spending on health care. This has become particularly difficult for the provinces over the past few years. The Federal government has reduced the Canada Health Transfers to provinces and territories by three per cent annually.
The amount of money that individual Canadians and their governments spend on health care rose by 2.7 per cent in 2016. A published report showed that 2016 was the sixth year in a row in which health care spending has not kept pace with inflation and population growth.
As a result of this pullback on public health care budgets, Ontario Medical Association President Dr. Shawn Whatley and the OMA are one of many groups that have been raising the alarm about long wait times for health care services.
In Canada the specialty of bariatric surgery has seen the number of procedures rise dramatically since 2009, and it continues to rise.
However, despite the increase in volume, bariatric surgery is only available to one in 183 (or 0.54% of) adult Canadians per year who may be eligible for it. There is significant inequality in access to bariatric surgery in different provinces with the range from one in 90 adults in Québec to one in 1,312 adults in Nova Scotia. (Obesity Network, 2017)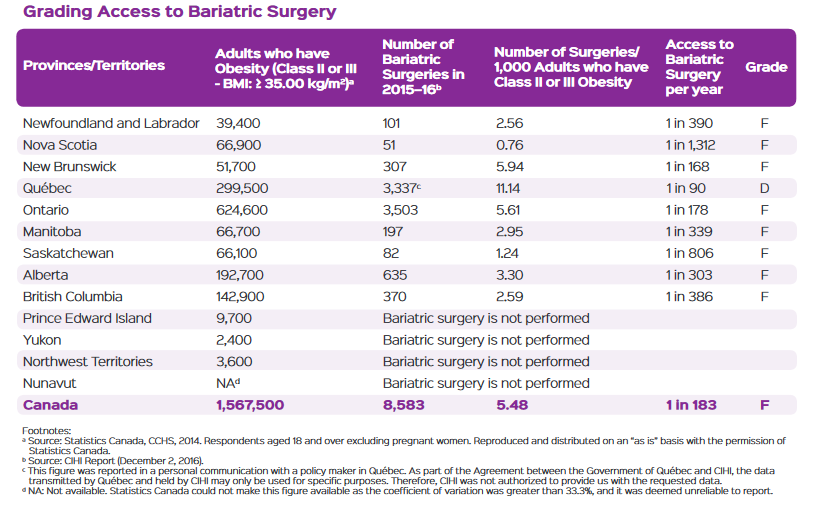 What is most alarming is that wait times for bariatric surgery in Canada are the longest of any surgically treatable condition. Despite relative increases in the number of surgeries performed, the current access to and wait times for bariatric surgeries in Canada remains unacceptable. The Canadian Obesity Network gives all provinces in Canada a failing (F) grade. The table below gives a dismal look into the reality of waiting for bariatric surgery in Canada.
A significant proportion of the wait time experienced by patients in the public health care system is between the referral and the consultation with a bariatric surgeon. Patients in most provinces can wait for two years or more just to see a specialist, and the wait can be as long as four to five years. In many provinces the wait times between consultation with a specialist and then surgery is another 12 months, but wait times can vary significantly from one province to the next. Many patients tell us that the wait time they experienced was actually much longer than reported above.
This leaves a large gap in the availability of surgery between those who want or need it, and those who can wait and qualify for a provincially covered procedure. And that's where accessing a private procedure can help fill the need.
Research shows that the majority of Canadians desire a public health care system with private options and insurance (53%). Canada is one of the only countries in the world that does allow access to a blended public and private health care system.
Since 2005, the SmartShape™ Weight Loss Centre has been providing an alternate avenue to access bariatric procedures which has helped thousands of Canadians with weight loss solutions that work! Our knowledgeable and passionate team of health care professionals specializes in the treatment of obesity, and our experienced surgeons perform more weight loss procedures than any other clinic in Canada. SmartShape is a private bariatric clinic in Canada offering several weight loss procedures – the Gastric Sleeve, the Mini Gastric Bypass, and Revision Bariatric Surgery. As well, SmartShape is the first and only Canadian facility accredited as a Center of Excellence in Metabolic and Bariatric Surgery (CoEMBS) by the Surgical Review Corporation. The accreditation is awarded to a facility and its surgeons who have proven and documented that they are providing high-quality surgical options and long-term follow-up care.
Connect with one of our Program Advisors today to learn more about how SmartShape can help you to have the right procedure right now. You can reach us at (888) 278-7952 or use our online form to request a consultation.
Thanks to the Canadian Obesity Network for their comprehensive information and charts in their "Report Card on Access to Obesity Treatment for Adults in Canada 2017". You can access the complete study here.