This strawberry season, why not try some different takes on how to use this delicious fruit while they are at their best?
Strawberry Agua Fresca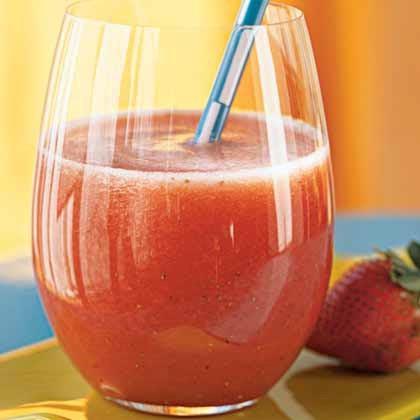 Spanish for "fresh water," agua fresca is a refreshing, fruit-infused drink that is served throughout Mexico. Depending on the ripeness of the strawberries, adjust the amount of sugar for desired sweetness.
Yield 8 cups (serving size: 1 1/3 cups)
4 cups water
1/3 cup sugar
5 cups hulled strawberries
1/4 cup fresh lime juice (about 2 limes)
Combine water and sugar, stirring until sugar dissolves. Place strawberries in a blender, and process until smooth. Combine the sugar mixture, strawberry puree, and juice; stir well.
Chamomile-Strawberry-Orange Cold-Brewed Tea
Steep the tea in jars overnight in the fridge; then pack the jars into a bin filled with ice for an easy, guest-friendly drink station. Fruit adds sweetness to this refreshing drink.
SERVES 8 (serving size: 1 1/2 cups)
Hands-on: 10 min. Total: 12 hr. 10 min.
8 chamomile tea bags
12 cups filtered water, at room temperature
2 small juice oranges (thin-skinned), peeled, cut into slices, and seeded
24 large strawberries, halved
4 teaspoons honey
4 teaspoons hot water
Place 1 tea bag and 1 1/2 cups water in each of 8 pint-size canning jars with lids. Place 2 orange slices and 6 strawberry halves in each jar. Cover with lids; refrigerate 12 to 24 hours.
Remove tea bags from jars. Combine honey and 4 teaspoons hot water. Divide honey mixture evenly among jars (about 1 scant teaspoon in each).
Enjoy!
For more delicious and healthy strawberry recipes, visit http://www.cookinglight.com/food/in-season/healthy-strawberry-recipes